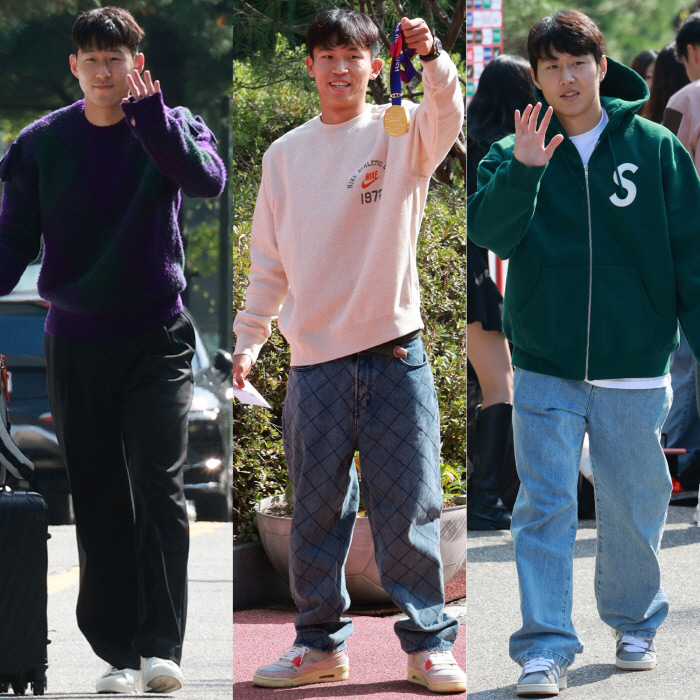 They didn't seem to be feeling the fatigue of a long away trip, as they were called up to the A team the day after returning home from the Asian Games in Hangzhou with gold medals and smiles on their faces.
Asian Games men's soccer gold medalists Seol Young-woo (25, Ulsan) and Hong Hyun-seok (24, Ghent) arrived at the Paju National Training Center on Monday for their first day of training with the national team. The A team, led by head coach Jürgen Klinsmann, will face Tunisia on Sept. 13 and Vietnam on Sept. 17.
Defender Seol Young-woo was selected as a wild card (25+) for the Asian Games. "I don't think I contributed much to the Asian Games except for participating," said Seol. "If I had to calculate my share, it would be 5%." When asked how much he expects his Asian Games gold medal to be worth by the time he finishes his career, he laughed and said, "About 10 billion won."
Seol Young-woo returned home the day before after more than a month of traveling from the September A match in Europe to the Asian Games. "I want to rest because it's hard, but I can't avoid competing for a starting spot in the A team," he said, "and I need to make up for the lack of defense I felt at the Asian Games." "The Asian Games gold medal solved my military service issue, but I think it's just the beginning," he said, strengthening his resolve.
Midfielder Hong Hyun-seok, who has been described as a "left-footed specialist" at the Asian Games, still can't believe he won gold. "I barely slept after the final," he said, "I still can't believe it." Hong has been enjoying a happy time this year, making his debut with the A team and winning a gold medal at the Asian Games. "Even if the military issue is resolved, it doesn't mean success," he said, adding, "I'll try to reach the top five European leagues, which I've always dreamed of."
After graduating from Hyundai High School in Ulsan, Hong went straight to the German third division, then the Austrian league, and is now playing in the Belgian Jupiler League. "Playing as much time as possible in a small European league like Belgium is a chance to grow before moving to a better league," he said. "I want to make up for my shortcomings, such as my lack of defense, and challenge Germany again."
Hong Hyun-seok's specialty is left-footed free kicks. In the national team, Lee Kang-in (Paris Saint-Germain), who is two years younger, has the best left-footed free kick. "He has a better kick than me," Hong said. Klinsmann had said in an earlier interview 카지노사이트 that he would use Lee in the two trials. For Hong Hyun-seok, the challenge was to showcase his free-kicking ability in his limited playing time.
On the first day of the call-up, 17 of the 24 players who were named to the October A-match roster gathered for training first. Captain Son Heung-min (Tottenham) set the tone before the session by encouraging the juniors, who had just returned from winning gold at the Asian Games. Hwang In-beom (Zvezda), Park Yong-woo (Al Ain), Kim Min-jae (Bayern Munich) and Cho Kyu-sung (Mitwillan) will join the squad on Tuesday.