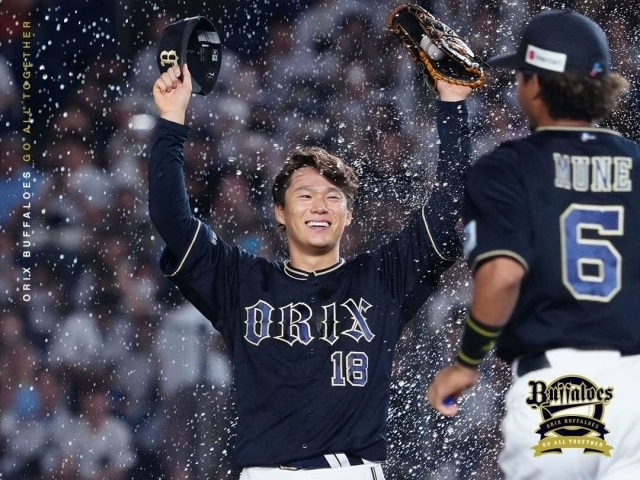 "We can get anything"
"New York Yankees general manager Brian Cashman made an enthusiastic call to Yamamoto, who is using the posting system to challenge for the major leagues next year, at the general managers' meeting in Scottsdale, Arizona," Japan's Sports Hochi reported on Aug. 8 (KST).
Yamamoto is currently an "ace" pitcher in the Nippon Professional Baseball organization, but his potential began to explode in the 2021 season. Initially a bullpen pitcher, Yamamoto transitioned to a starting role in the 2019 season, and in 26 appearances in 2021, he pitched 193⅔ innings, struck out 206 batters, went 18-6 with a 1.39 ERA, and won four Pacific League Pitcher of the Year awards (wins, wins, strikeouts, and ERA) and the Sawamura Award, which is reserved for the best pitcher after regular season MVP.
That was just the beginning. In 2022, Yamamoto went 15-5 with 205 strikeouts and a 1.68 ERA in 193 innings across 26 games, winning four titles, MVP honors, and the Sawamura Award for the second straight year – a "first" in Nippon Professional Baseball history. This year, he had his best year yet, going 16-6 with a 1.21 ERA in 23 games and 164 innings pitched, striking out 169 batters. Now that Yamamoto has won the Pitcher of the Year award for the third year in a row and the Sawamura Award, the only thing left to do is to announce the MVP.
Yamamoto will soon be evaluated by Major League Baseball clubs through the posting system, and the interest in him is very high. Given his performances in the last three seasons and at international tournaments like the World Baseball Classic (WBC), it's very likely that 30 major league teams will be in the running to sign him. Among them, the New York Yankees stand out.
The Yankees are very "serious" about Yamamoto. In September, general manager Brian Cashman traveled to Japan to see Yamamoto, who is about to be released, in person. It had been six years since Cashman had traveled to Japan to observe Shohei Ohtani in 2017. And on the day of the match, a record was made. Yamamoto threw a nine-inning no-hitter against the Chiba Lotte Marines on September 9, throwing 102 pitches, striking out eight, and walking two (one hit and one walk), and Cashman was on the field to witness it.
According to Japan's Sankei Sports, after Yamamoto's no-hitter, Cashman told Japanese reporters, "It was great. Everyone who saw it was excited. It was a historic play. It was a great moment for the team, a great moment for the fans. I'm happy to be a part of this moment." "I'll cherish my ticket today. Maybe one day, when I see him again, I'll be able to get him to sign an autograph." He gave Yamamoto a thumbs-up and sent him a "love call" as both the Major League Baseball and Nippon Professional Baseball schedules ended.
According to Sports Ho Chi Minh, Cashman said, "Yamamoto is an incredible talent. Being able to see the no-hitter in person was a huge gift for me, a special time. A lot of tickets are digital now, but mine is a collectible paper ticket. I'll keep it as a treasure and give it to my son as a gift," he smiled.
"There are a lot of differences between Japanese baseball and American baseball, such as the schedule and the official ball, but Yamamoto is a world-class player. We've been fortunate enough to sign some great Japanese players in the past (Hiroki Kuroda, Masahiro Tanaka, etc.). Hopefully, that will continue in the future. The starting lineup is always a point of reinforcement. We have a good starting lineup, but if we can add better players, it gives us flexibility. We can run anything, we can get anything. We'll discuss what's right and what's wrong," he said of his decision to sign Yamamoto.
With Cashman's aggressive pursuit, the likelihood of Yamamoto donning a Yankees uniform is very much on the rise, and local media outlets are 토토사이트 pointing to the Yankees as a possible destination for Yamamoto. "The Yankees may have a higher-end target in mind," said ESPN's Buster Olney, "and Yamamoto could be one of those options."
"Cashman convinced Hal Steinbrenner to sign C.C. Sabathia in 2008 after the team failed to reach the postseason, and he did the same with Gerrit Cole after the Boston Red Sox won the World Series in 2018," Olney said, adding that the Yankees, who lack a solid starting rotation, will look to Yamamoto. It's looking increasingly likely that Yamamoto will end up with the Yankees.