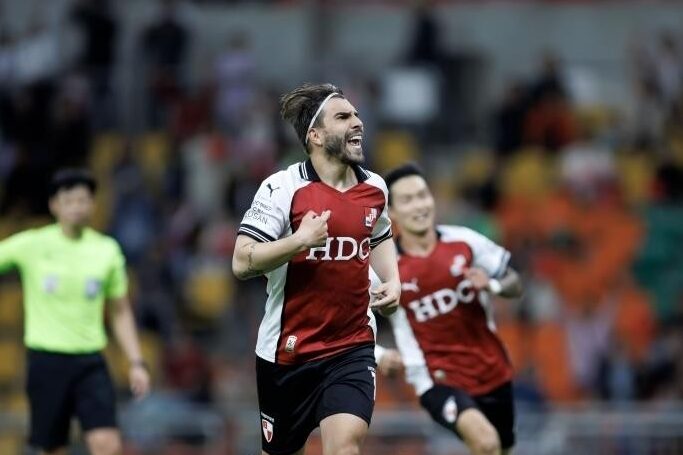 Professional soccer Busan I-Park will challenge to win the K League 2 (second division) title this weekend and return to the K League 1 after four years. The Hana OneQ K League 2 2023 champion can be confirmed depending on the results of the two round 38 matches between Gyeongnam FC and Gimcheon Commerce at the Changwon Football Center in Gyeongnam on the 11th and Jeonnam Dragons and Busan at Gwangyang Football Stadium in Jeonnam on the 12th.Currently, Busan is in first place with 69 points and Gimcheon is in second place with 67 points. Both teams have two games remaining .If Gimcheon loses or draws against Gyeongnam in Round 38 and Busan wins against Jeonnam, Busan will be crowned champions regardless of the outcome of the final round.
The winner of the K League 2 will receive a "direct promotion" to the K League 1. Busan will be returning to the top flight for the first time in four years after finishing last in the 2020 season and being relegated .With eight wins and a draw in their last nine matches, Busan hasn't lost a point since September 3 and will look to build on their momentum to secure promotion .Ramas, who leads the team in goals and assists with 10 goals and seven assists this season, and Kim Chan, who has scored the most goals among domestic players (eight), will lead the charge in the hunt for the 'three points'. Busan head coach Park Jin-seop, who oversaw Gwangju FC's K League 2 title and promotion in the 2019 season, will be looking for his second promotion in his career.
Park took over the reins of Busan in June last year, when they were at the bottom of the K League 2, and transformed them into a solid team looking to win the title in just over a year. Gimcheon is determined to win against Gyeongnam and take the title race to the final round .If Gimcheon beats Gyeongnam and Busan loses to Jeonnam, Gimcheon will move into first place. Even if Busan draws with Jeonnam, Gimcheon (69 goals) has a 20-goal advantage over Busan (49 goals) in goal difference, making it very likely to take over the top spo tGimcheon has recently won five straight games. In those five games, they've scored 19 goals .There were concerns that the team would have a gap in its front line after Cho Young-wook, the league's top scorer among Korean players (13 goals), left the organization early after winning gold at the 2022 Hangzhou Asian Games, but that proved to be short-lived .Gyeongnam, currently fifth (53 points), and Jeonnam, sixth (50 points), are expected to put up stiff resistance to title contenders Busan and Gimcheon .This is because they are in a fierce battle for a spot in the K League 2 playoffs, the stage for promotion. Gyeongnam can qualify for the K League 2 playoffs on their own with a win over Gimcheon, while Jeonnam needs 토토사이트 at least one point against Busan to keep their promotion hopes alive.